Posted on May 31, 2012
"The mental apparatus of the coming generation is developed in [the womb] and the time to begin supplementation is before conception.  A normal brain cannot be made without adequate supply of omega-3 fatty acids, and there may be no later oppurtunity to repair the effects of an omega-3 fatty acid deficiency once the nervous system is formed." (bold added)  - Wiliam E Connor; Oregon Health Sciences Center
When I study health and wellness issues that affect my kiddos, what usually scares me are things called developmental windows — times in a growing kid's life were if certain things occur or don't occur, they have lasting results that are difficult or impossible to repair.  Its scary to think that I may have missed something.  You didn't provide your kid with this or that nutrient, you let your child watch television before they turned two, they are therefore doomed for the rest of their life!  — is pretty scary.
What about your kid's brain?  Is that something you want to set up for success?  That is, after all, the organ through which your child will experience existence.  It is the organ through which your child will be able to be happy, learn, experience life, and make his/her mark on the world.  The brain is pretty much square one for your child.
Your kid's brain is made of fat, and approximately 30 years prior, scientists started discovering that it takes a certain kind of fat to make a brain right.  This was partly discovered by accident when children raised on formula (which were little more than skim milk and sugar) instead of breastmilk  were having serious developmental delays — literally being retarded in their brain growth.
Why all of these brain problems?
Around 80 years before that a food processing technique began taking out certain kinds of oils in  foods and saw that shelf life of foods increased dramatically.  Without these oils, food could stay on the racks for weeks, not days or hours.  This was great news!  More people could be fed.  Food poisoning would decrease.
...Or was it?
Years later it turns out that those fats and oils that were removed from foods were also the same fats that coated nerves and made brains.
PART TWO COMING TOMORROW
Posted on May 26, 2012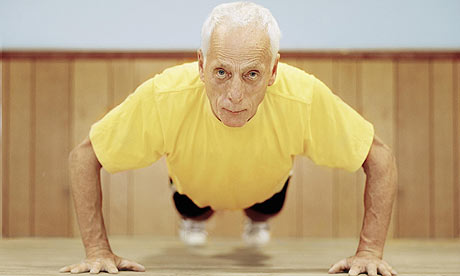 Read this jazz.  Do it.
Ever feel foggy?  I do.  I hate it.  I hate forgetting a name, or how to spell "the."  Stuff like that is crazy, but it happens all the time.  What can you do about it?
Special pills?  Special book?  Sudoku?
Honestly, the number one thing you can do for your brain is to move.  MOVE GOSHDARNITTOHECK!  Like one genius says, "motion is lotion for the brain."  Want a smooth, silky brain that can calculate tax before the assistant rings you up on the register?  Want to be able to actually remember where that article was last week that supported your recent political stance?  Want to remember your grand kids?
Take fish oils, but realize that brain atrophy will not be halted by nutrition alone.  Nutrition is the raw substance; exercise causes the actual brain building to occur.  The brain is literally there for you to move.  Did you notice what they said in the conclusion from that study?
As predicted, no significant changes in either gray or white matter volume were detected for our younger participants. However, when directly comparing the changes in gray matter volume for older exercise and control participants, we found that the previously sedentary aerobic exercising group showed a benefit in brain volume in several regions after participation in an exercise training protocol. (bold added)
Want your brain to stop shrinking as you lose thousands of neurons per day?  Move.
There is no pill, potion, or lotion that can mimic the effects of exercise for you.  Don't wait for one.
Posted on May 24, 2012
There were outbursts from parents, they wanted blood!  You've made little Johnny a 120 pound 7 year old!  How dare you!  Where is the respect?!  You're killing our children!  They said.  Coca-cola and corn syrup were the bad guy.  So, some schools made vending machines illegal in schools.  Cool.
But parents have been duped, meth has only been replaced with speed.  Thank you Coca-cola, you've taken out the sody pop and replaced it with healthy orange juice.
Remember this: when it comes to your pancreas, and obesity, and diabetes, and brain changes, there is little to no difference between juice and coca-cola.
Hippie parents are always shocked when I tell them that that organic, "fresh-squeezed" orange juice in the bottle they just gave their 9 month old is no different than the Pepsi they saw an "uneducated" mom put into her baby's bottle at Wal-Mart.
You've been duped.  There is no difference.  Each is a massive amount of sugar dumped into an incredibly small body.
Go back a couple thousand years.  Imagine that you have to forage and hunt for your food.  Do you have any idea how hard it would be, how many calories you would have to expend, to gather enough fruit to make something as sweet as our modern day fruit drinks/colas?  Sweet is an uncommon reward in nature, but we've made it an everyday occurrence.  Liquid candy is not natural.
What Can You Do If Your Kid Is Hooked
If your kid has been "used to the juice" then there's going to be some symptoms of withdrawal.  We're made to crave sweet and salty.  Start by diluting your juice with water.  Then, just give water.  After your child's taste buds re-adapt they will be able to appreciate the quench that comes with water, and even appreciate the subtle taste good water has.
Smoothies: The Exception
The drink that is acceptable and totally different from juice is a smoothy.  Why?  Fiber.  In smoothies, entire veggies and fruits are bashed to death, and the fiber remains (in juices fiber is extracted) to act as a slow release for the sugar and keeps insulin from shooting up like a rocket.
Don't believe the commercials.  Drink juice every now and then, but just don't buy the hype that store-bought juice is "healthy."
Much sugary love,
JVB
Posted on May 19, 2012
I saw this video for the first time two weeks ago.  You should really take 5 minutes out of your busy life to watch it.
Arthur's experience is an amazing example of what can go wrong without proper function, and that the ability to re-learn function is possible.  I want to give you my personal perspective and point some things out that I noticed when watching this.
First, again, high-fives and hugs to this man for rising above the status quo and for not  listening to incorrect doctors who didn't realize the potential of the human system.
0:24  First thing I noticed was Arthur's countenance in the bits it shows of him before he begins his transformation.  How happy is he?  Even in the still pictures – can you see the lack of life in that face?  There is a direct relationship with the state of the body and the state of the mind, or general mood.  When we move, we are happy.  In fact, one researcher goes so far as to say the only evolutionary function of the human brain is to be able to coordinate movements (watch his full TED talk here).  Without the need to move, why have a brain?  Notice what changes happen to his countenance as he makes this transformation.
2:48  This is something that I try to explain with my patients as I try to not only teach them to exercise, but to move.  That's the beauty of yoga, it teaches advanced life movements.  Take away the beard and glasses of Arthur, squint a little bit, and imagine that that is a big 3 or 4 year old child.  Do you see the similarities?  Look at that balance, look at the wobble, look at the fall?  Have you not seen your small child do that 100 times when learning to crawl, stand, walk, or run?  Arthur had to RE-learn these same steps that his brain/body had forgotten.  Relearning movement is so much more than "exercise."
3:10  This is the best line in the whole video, and the key to Arthur's success.  Do you think a 2 year old ever just says, "you know what, I'll never be able to walk.  I give up."  No, they expect to learn because they see everyone else around them walking.  Doubt isn't a two-year old's option, no one has ever told him he can't, shouldn't, or won't be able to walk.
3:24  Look at this segment of him walking, now compare it with the side profile at 1:26.  See how he walks TALLER?  Despite arguments over this topic, I think posture and the way we move says tons about our mental health.  He's expressing greater ability to walk on two feet, greater balance — dare I say greater humanity!
3:57  This makes me cry everytime.  Like a baby.  I'm tearing up just picturing that segment right now.  Do you know how beautiful that is?
In fact, do you know how beautiful and lucky you are right now?  Arthur had to have his knees turned to mashed potatoes to realize how lucky he was.  Most of you reading this can walk.  Most of you reading this can run.  Do you enjoy that on a regular basis?  You should, we'll never know how much of a gift the small, miraculous movements are in our life until we can no longer perform them.  Most of us learn the basics — crawling, walking, running, and maybe a specialty sport skill — and stop learning and growing in our movement after that.  Then we spend years in chairs behind desks and  end up losing even the most basic skills — being able to walk without pain — due to what I like to call movement atrophy.  Don't be that person that doesn't know what he has until it's gone.
Arthur's given us an amazing example and warning, we should take it.
Posted on May 15, 2012
How many of you area aware, not just "aware," but really aware of what your kids are eating?   Yes, maybe you give them cereal in the morning (or, you're really health conscious and give them oatmeal), but then you send them out the door with a few dollars for school lunch without a follow-up.
A study conducted by the CDC (Centers for Disease Control) in 2009 showed how disparate the condition of eating is.  First, only 33% of adults ate 2 or more servings of fruit, only 27% ate 2 or more servings of vegetables.  When high-schoolers were asked the same questions did far worse:
High school students fare worse than adults: 9.5% report they eat two or more fruits and three or more vegetables a day. About the same number of students (32%) as adults say they meet the fruit recommendation, but only 13% say they eat at least three servings of vegetables a day.
But there's a couple catches that make this EVEN MORE scary.
Number one: This was done by questionnaire.  Research tends to show that when we're asked about some negative behavior like this, we tend to play our behavior down, thinking we're doing better than we really are.  Meaning, people are probably not even eating as many vegetables and fruits as they say in this study.  The numbers are probably worse.
Number two: french fries and ketchup counted as TWO servings of vegetables in this study.  Luckily, in the following years' study they ameliorated this problem.
Number three: the requirements for fruits and veggies are low to begin with!  We should be eating more fruits and veggies than that!
Take that all into consideration, and the fact that this research (PDF) showed that if pre-school girls were given this one food, the risk of manifesting breast cancer later on in life increased by over 25%.
The food: french fries.
This is just one food, what about pizza?  What about massive amounts of canned food?  What about soda pop?
We know these things are bad, but do we really know how bad they are for our kids?  What do we do with this "knowledge?"
My 9 month old boy is just getting over a bad skin condition.  Here he is below, when the skin was just barely starting to react to a food we didn't know was poisoning him:
Now, during this rough time he was on some medication to calm down inflammation.  We were absolutely religious about the administration of this medicine.  We wouldn't miss a day, and we were exact about the dosage.  Why?  Because if we didn't we'd know he was in trouble, immediately.
You're just like me, I'm betting.  You're probably a caring parent.  But you need to know that that spoon you put in your kids mouth, or the example you set at the dinner table or out at the restaurant, is just as powerful (if not more!) as the medicine I gave my boy, it's just slower.
You don't immediately see your child put on 10 pounds after a milkshake, or the teenage girl with breast cancer after eating fries, or the young adult with colon cancer, or the teenager with rampant acne from milk, or the elementary kid who can't think straight because his brain is made up of plastic trans fats from a life of chicken nuggets?  These things poison us slowly, but they still poison us, nonetheless.
Posted on May 11, 2012
"Why does it do that?" is a question I often get when one of our athletes comes up with a back spasm.  "Why are my hamstrings so tight?"  "Why does it always pull in my calf?"  "Why does my lower back hurt, I'm young, and strong?"
These are questions I've thought of myself, and I always get similar answers:  Yes, you're an athlete, and you're in "good shape" by most standards.  You come to practice and practice your heart out for two hours, five days a week.  But let's break down the rest of your day:
8am - 3:00 pm Sitting.  At school.
5:30 - 10:00 pm  Probably sitting, watching TV, working on homework.
Then, the line I repeat almost every day as I work with patients at our clinic: Improper sitting destroys the spine.
For that reason, I blame many of the physical abnormalities I see in our young based on the environment their forced into during school.  Yes, children should be able to pay attention to a teacher for hours.  I'm serious, the ability and art of focus should be taught and practiced day in and day out.  What I'm against is the constant, chronic sitting, slouching, slooping forward.  We're destroying spines and bodies, and as a result, we're destroying minds.  What the body does, the mind follows.
Parents, read this book:
I'll give you the low down on what happens.  Ratey, MD, a psychologist and professor at Harvard Medical School, chronicles what happens to children's brains as exercise was introduced religiously into a highschool in Chicago, Naperville Central High School
"...latest in a long line of educational experiments conducted by a group of maverick physical education teachers who have turned the nineteen thousand students in Naperville District 203 into the fittest in the nation — and also some of the smartest.

"It's no coincidence that, academically, the district consistently ranks among the state's top ten, even though the amount of money it spends on each pupil — considered by educators to be a clear predictor of success — is notably lower than other top-tier Illinois public schools...  Its per-pupil operating expense in 2005 was $8,939 versus $15,403 at Evanston's New Trier High School. New Trier kids scored on average two points higher on their ACT college entrance exams (26.8)"
Ratey, John J. (2008-01-10). Spark: The Revolutionary New Science of Exercise and the Brain (p. 13). Hachette Book Group. Kindle Edition.
What is it that this school is doing so differently?  A zero hour PE class where students are graded on individual physical performance metrics — e.g. you must keep your heart rate up to a certain amount during an entire mile.  Then, after zero hour PE, kids take their toughest academic assignments.  Have a tough test?  You take it then.
Not only that, but chairs are replaced with exercise balls, treadmills, and stationary bikes.  Got a ADHD-like kid that can't sit still?  Try making his legs pump a stationary bike when you give him a lecture and notice the difference.
These are all changes that could be done in Farmington, and I think it would help our kids be all around healthier.  If you read that book, one of the most frightening things is how dependent brain growth is on physical activity; this is scary because of how little activity our children get in school.  Remember, the track athletes I work with are they by choice.  Athleticism is an "elective," by most school standards.
But is it?
Posted on May 9, 2012
In my previous post we discussed the staggering cost of healthcare, and how it is literally bankrupting our country.
Someone made the comment that "Preventative healthcare is a joke in this country."  And I agree.
There has been a big push for what people are calling "evidence-based care."  Meaning, if you don't have evidence for your therapy in the form of scientific literature, than that therapy isn't going to be covered.  Now, all and all, this isn't a bad thing.  In fact, I'm not against evidence-based at all.  The standard of evidence-based care weeds out many sham treatments, and then allows the customer to direct his/her funds to therapies that have been shown to help (according to the scientific literature).
The difficulty arrives in prevention.  It is much more difficult to prove "prevention" of a disease, than removal of a disease.  How did you know the people you were testing were going to end up with the disease in the first place?  How do you know that you actually prevented something, short of having twin studies?
Do you see my point?
Secondly — and as medical practitioners we need to be honest here — who is paying for most studies?  Drug companies.
What does that do to our "evidence" in this era of evidence based care?  One study that was published in the annals of internal medicine looked at studies that were studying drugs and their effectiveness.  If the study was funded by a pharmaceutical company, these were the results:
In this sample of registered drug trials, those funded by industry were less likely to be published within 2 years of study completion and were more likely to report positive outcomes than were trials funded by other sources.
Meanwhile, therapies that we know to decrease the occurrence of diabetes and obesity (exercise and vegetables) get shoved to the back, underneath a pile of studies on drugs, and our "preventative" healthcare becomes a joke.  You don't prevent a disease via early detection (mammograms), because by the very nature of prevention, if you've detected the disease, you've already failed to prevent it.
Posted on May 9, 2012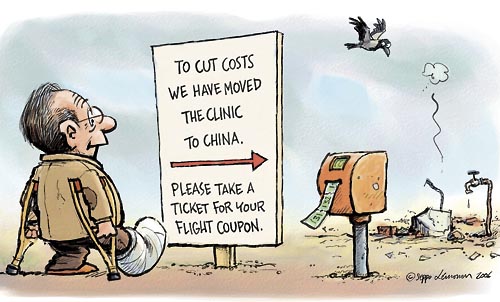 I spent the entire weekend learning about nutrition from a great mind, so I want to give the ideas I present here full credit to his presentation (you can visit that doc's website HERE, go to the "free stuff" part of the page to find other interesting scientific literature reviews).
The weekend was started with these staggering numbers.
16 trillion dollars.
15 trillion dollars.
The above number is our national debt.
The number bellow is our gross national product, how much our entire nation brings in (see google's graph of the number here).  Do those numbers scare you?  First off, do you even understand the magnitude of the number "trillion"?  Before you go any further, watch the below video to get an understanding of how much a trillion dollars is:
Now, let me give you an even scarier perspective.  The above numbers are missing something, the medicare deficit they don't add in:
34 TRILLION DOLLARS.
Now, different parties frequently argue about wars abroad as bankrupting our country.  Yes, that's a part of the problem, but the gorilla in the room is healthcare, specifically medicare.  We can't take care of our sick, elderly Americans.
Out of the 16 trillion dollars we plan to spend, Americans spend about $2.7 trillion on healthcare, AND WE'RE 37TH IN THE WORLD FOR HEALTH.
Want to save our nation, and solve the debt problem in one big swoop?  Fix healthcare.
Presently, we have a healthcare system that aims at making insulin more accessible to fix health problems.  How is this wrong?  Read that previous sentence again until you have an answer.  Have  it?  OK, now you can proceed....
The problem is that we should be preventing type II diabetes well before they ever get it, not trying to manage insulin after the fact.
I know this is a lot of gloom and doom, but sometimes a reality check is necessary to scare us into behavioral change.  I am specific in my use of the word "behavioral."  Get this right: diseases causes by lifestyle choices are bankrupting our country.  Diseases like type II diabetes, obesity, and heart disease.  Diseases that are easily treatable by making some hard decisions and doing what we already know we should be doing: eating more vegetables and exercise, for goodness sakes!
Now that we know, what will we do?  Today?
P.S. In the posts that follow, I'll try to help answer that question.
Posted on May 3, 2012
Not, not that kind of dirty.  Shame on you.
I lived in the Philippines for two years.  To be short, it was a culture shock.  It was much "dirtier" than America.  Kids didn't wear diapers.  The concept of diapers was foolish.  Poop is easy trash to deal with, why catch poop with something that you'll need to throw away.  Also, diapers are expensive.  When most meals consist of vegetables and rice, and you live in a hut you built out of bamboo you scavenged from the forest, having a diaper isn't high on your grocery list.
I was still very new to the country.  It was hot.  No air conditioning.  My bowels were loving the food (sarcasm).  No one spoke English.  It was rough.  There I was in the home of a family that lived next to the ocean in a small bamboo hut.  It smelt strongly of fish.  The ground to this house was dirt.  They had a small baby around 6 months old.  She was a darling.  She was playing with something, sticking it in her mouth, waving its arms back and forth, it looked like a little doll.  I came in closer,
she was playing with a dead, featherless, pinkish gray duck embryo.
You can only imagine my disgust.  How was this girl even alive?  Something like salmonella should have her puking her guts out.  But she wasn't.  In all actuality, she even appeared — dare I say — healthy?
The scientific journal titled Science just published this great article (LINK) studying mice, their exposure to germs, and immune function later on in life.  Mice were put in two groups, regular and germ free.  The germ free were kept cleaner than your great grandma's bathroom.  They were basically sterilized from birth.  Living a life Martha Stewart would be proud of.  The regular mice were, well, just 'ol regular.
Later on they took a look at levels of a cell called invariant natural killer t cells.  These cells are created by your body to attack and destroy foriegn invaders.  More of them generally means better immunity because you have more fighters to fight bad guys.  Contrary to what some may think, the dirty mice had more t-cells.  This study backed up the hygiene hypothesis (read more about it HERE), which postulates that lack of exposure to infectious agents early on in life increases susceptibility to disease later on in life.  The study also seems to point out that there's a development window when young that if missed, cannot be made up for later.  In other words, if you're not exposed early on, there may not be a way to get that level of immunity later on in life.
Now, this study is in mice, so it's impossible to say that it carries over, but as for me and my house, WE WILL PLAY IN THE DIRT.  You should let your kids get nasty dirty too, maybe not suck on raw duck babies, but at least eat some dirt every now and then.  Calm down on the hand-sanitizer.  An air filter is un-neccesary.  Maybe have your kid go to the neighbor's and fight off chicken pox instead of giving him the vaccine.  If we never allow our child's immune system to fight its own battles, how will it become a good fighter that easily eradicates the yearly flu strain?  Answer: It won't.